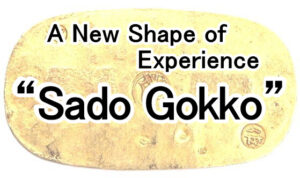 What does the "Gokko" in "Sado Gokko" mean?
"Gokko" usually means something like "play" in Japanese (like hide-and-seek), but in this case, "Gokko" means to learn and to rediscover! "Sado Gokko" is an activity where you can get a hands-on experience through acting out, absorbing, and reproducing new things you've learned.
There are two rules to "Sado Gokko!"
RuleI. Enjoy Sado Island safely!
Rule II. Try using one word or phrase from Sado dialect and speaking with a Sado native!
The Sado dialect we recommend is… "de-ka-shi-ma-shi-ta."
"Dekashimashita" means arigato – thank you – in Sado language!
Try it out on Sado Island.
At Meotoiwa, we will start a new form of experience "Sado Gokko".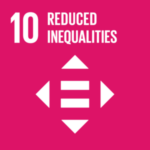 "Sado Gokko" aims to be a sustainable activity that can be enjoyed by both foreign visitors to Japan and the hearing impaired.
Time Slip Back to the Edo period and experience the Sado Gold Mine Picture Scroll!
Experience the "Horiko-Gokko"

The Sado Gold and Silver Mine Picture Scroll depicts gold production systems and the people who were involved in mining.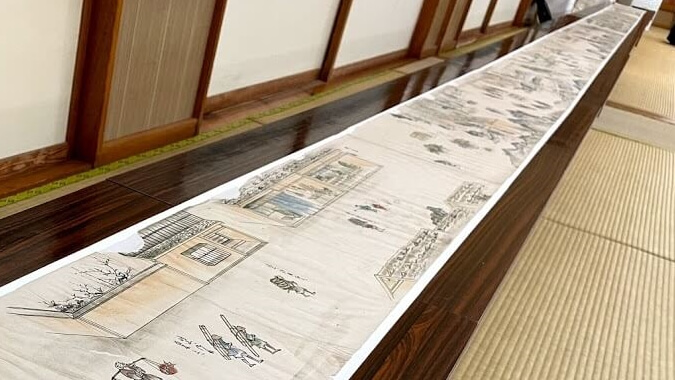 In this program, you'll experience the life and work of a gold mine ore carrier, just as it's depicted in the scroll.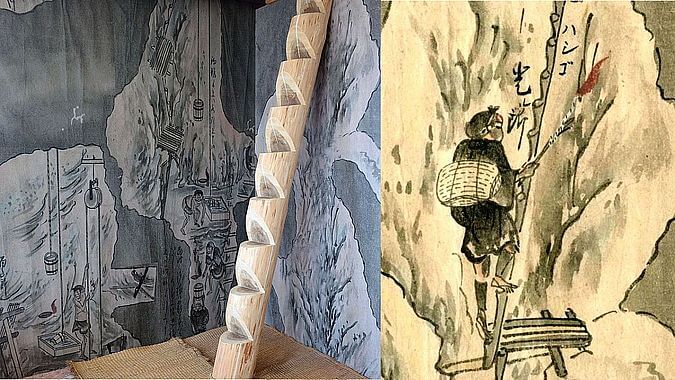 With lunch included: taste the specialty "Gen-
sa
n
Do
n."
Only available for this program's participants, this rice bowl is inspired by the tunnel carpenter depicted on the picture scroll, Genshiro!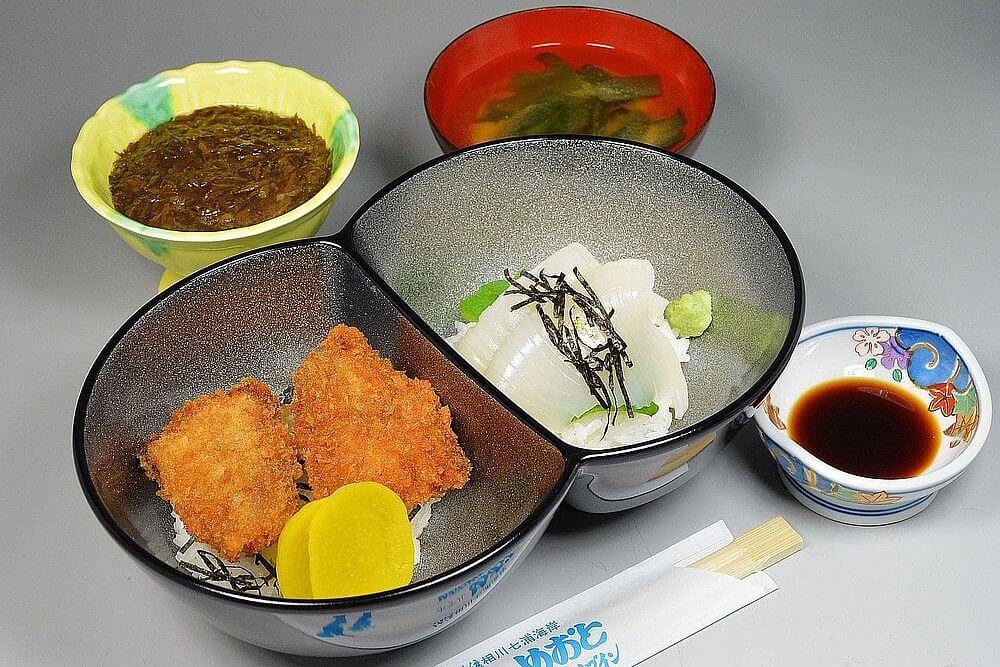 Traditional Methods of Gold Mining
【Traditional Methods of Gold Mining】
A World Cultural Heritage site is a place of "of outstanding universal value." On Sado Island, this outstanding universal value can be found in the historical systems of traditional gold production, completely mined by hand. This is the system depicted in the Sado Gold and Silver Mine Picture Scroll:
(I) daiku dig (mining)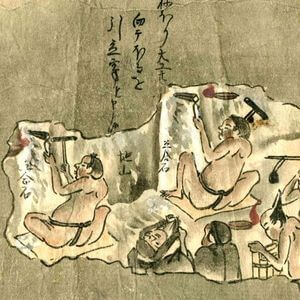 (II) Horiko carry ores (hauling)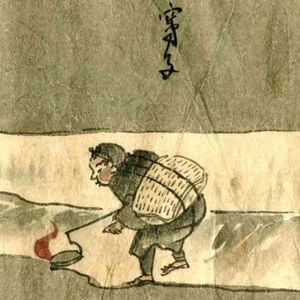 (III) Ishierime sort ores (sorting)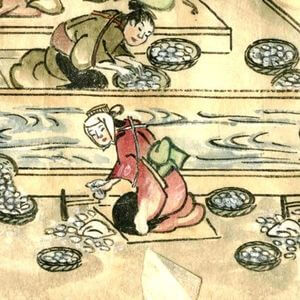 (IV) Tokoya extract gold and silver from ores (smelting)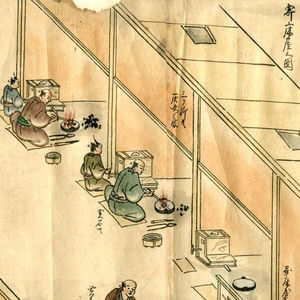 (V) Extracted product is made into koban coins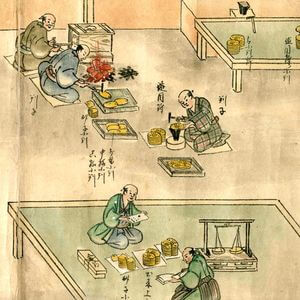 The basic system of gold and silver production is described as, "not undertaken directly by the Shogunate, but left to the private sector for profit." In a special ward called "Tenryo," the private sector hires workers to increase production and business. Introduction of competitive principles such as bidding increased productivity. Essentially, the system of gold production made maximum use of the private sector's resources.
During the sakoku, or isolationist policy of the Edo period (1603-1867), cutting-edge technology from foreign countries was introduced through trade. It was thanks to the vitality of the private sector that this technology could be quickly adopted.
So what type of private contractors were involved? Among them were miners (blue-border), smelters (green border), and staffing agency workers (black border).


Okubo Nagayasu, bureaucrat of the Edo period, is said to have arranged this system.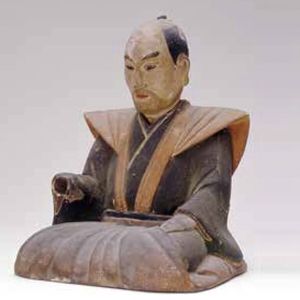 Therefore, it can be suggested that the gold production system on Sado Island during the Edo period was the forerunner of Japanese capitalism, and in turn, that Okubo Nagayasu was the founder of Japanese capitalism.
The rest of the story is for when you visit us here on Sado!
"Horiko-Gokko" Program Flow
To start off, we'll take a look at the picture scroll and learn more about it how miners carried gold and silver ores out of the mine. Then, get ready for work! First, don the gear worn by miners back in the day, including waraji (traditional rice straw sandals) and a kamasu (traditional cloth bag). You'll find the bag to be a bit heavy – in fact, its exactly the weight of gold that was once carried by the head carpenter, Gen-san. With your ores in tow, challenge the obstacle course simulating a mining tunnel! After completing the course, get ready for a photo shoot! Kimono and chonmage costumes will be provided.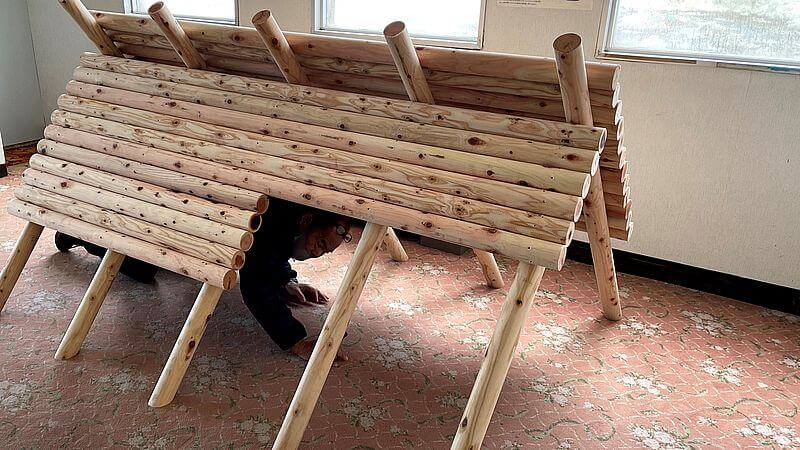 "Horiko-Gokko" Experience Overview
"Horiko-Gokko" Experience Overview
Ages : 8 years old and up
Length of time : Approximately 2 hours, including lunch
Start time : Programs are held twice a day.
1) 11:00~ (Program → Lunch)
2) 12:00~ (Lunch → Program)
Reservations : 3 days in advance, by 16:00
Email: Reservation form for Horiko Gokko
Minimum Participants : Two people
Maximum Capacity : 20 People
Fee
Adults:3,000 yen(With Waraji traditional rice straw sandals)
Children:2,000 yen(Without Waraji)
Fee includes : Experience fee, lunch, waraji (adults only), certificate, kaiyun ore, consumption tax.
Meeting place : Meotoiwa Kanko (1267-5 Takase, Sado City, Niigata Prefecture)
Other
・Only adults will wear waraji (straw sandals). The used waraji will be given away as souvenirs.
・Reproduction of a tunnel from those days, and are made to be narrow and difficult to walk through. Please wear comfortable clothes (pants, etc.).
・Some days may be fully booked due to group tours.
Please check the calendar for available dates.
"Horiko Gokko" acceptance calendar
| | | |
| --- | --- | --- |
| Possible | Unavailable | Unable to select time |
Play "Omusubi Gokko!"
Make Homemade Onigiri with Fresh Sado Rice and Sado Salt
The rice used in this experience is Sado "Living in Harmony with Crested Ibis" Brand Koshihikari Rice. In this program, you can enjoy making delicious onigiri with locally-grown Sado rice.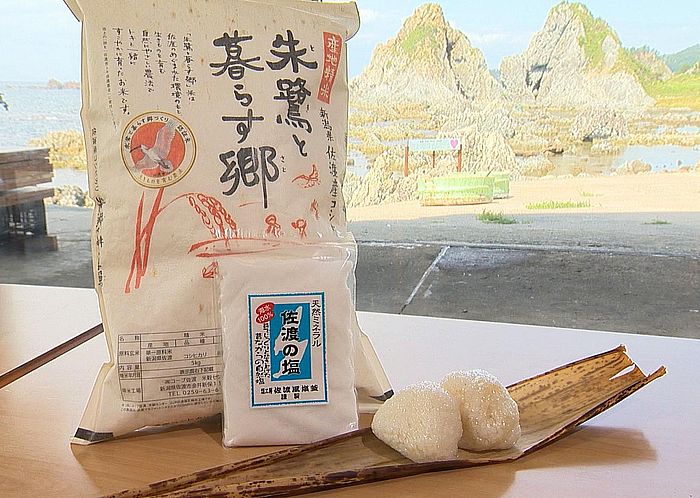 "Living in Harmony with Toki (Crested Ibis)" Sado brand rice is a special designation for rice that has been produced with agricultural methods that keep the sustainability of the crested ibis in mind. These farms have worked to reduce the use of pesticides and chemical fertilizers, allowing living creatures in the rice fields to flourish.
"Omusubi Gokko!" Experience Program Flow
Ignite the pot for one person and start to cook the special brand Sado Rice
There is a set with rice and water, open the lid to check.

Prepare Bamboo Peels for Wrapping
We have bamboo peels about 60cm long and 12cm wide for wrapping our omusubi. Tear off about 5mm of both ends of the bamboo bark to make two long, thin pieces of string.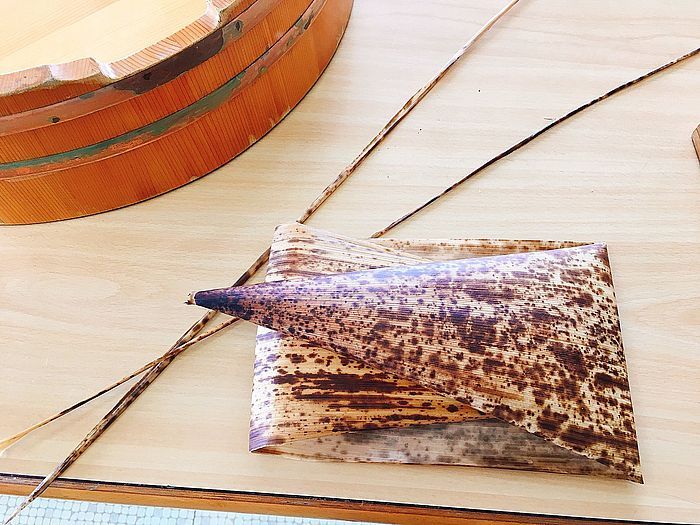 Salt Factory
We have 30 minutes until the rice is done cookng! Use the time to go to the salt factory and get an item specially made for onigiri called "anyshio." The sea of Sado island is where cold and warm currents meet. Salt made in the factory is handmade by collecting seawater from the area near the Meoto Iwa rocks and boiling it down for about 15 hours. We also collect turban shells and abalone on these shores.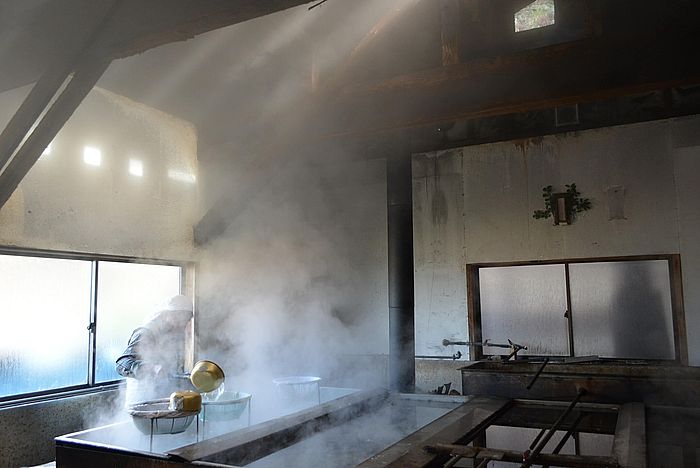 Item specially made for onigiri called "Anyshio."
It takes a lot of time and effort to make the salt, so the salt workshop workers will not give it to you easily. Please help the salt workers to get "Anyshio".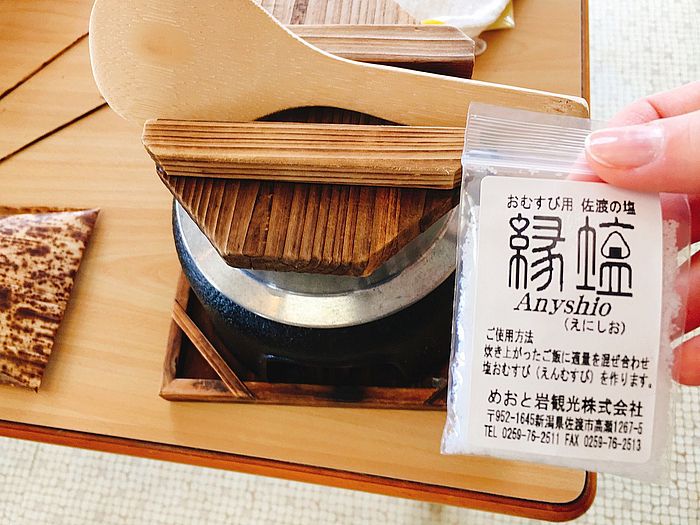 Making Shio Musubi (Salt Rice balls / Onigiri)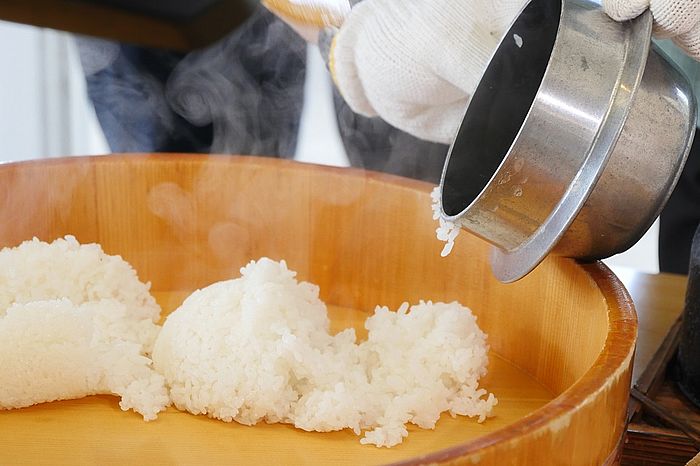 Wrapping
We are going to wrap our onigiri the way they did in the olden days. Spread out your folded bamboo strips and wrap the two onigiri up.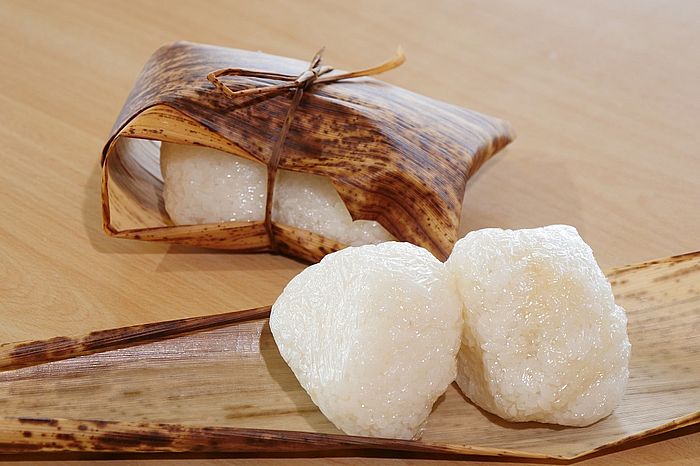 Voila
Sado Koshihikari rice tastes best after it has cooled down. Enjoy it outdoors with a nice view!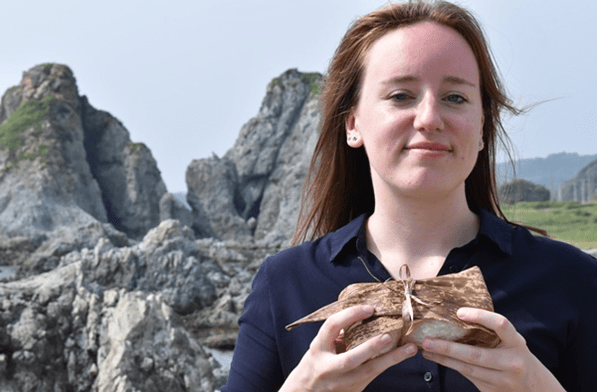 ・
"Omusubi Gokko!" Experience Overview
Program Time Approximately One Hour
Start Time Programs are held twice a day:
(9:40~・14:20~)
Reservations 3 days in advance, by 16:00
Email: reserve@meoto.net
Phone: 0259-76-2511
Minimum Participants Two people
Maximum Capacity 15 People
Fee


●

Adults:2,000 yen


●

Children:2,000 yen
Address 1267-5 Takose, Sado
Notes Some days may be fully booked due to group tours.
Please check the calendar for available dates.
"Omusubi Gokko" acceptance calendar
| | | |
| --- | --- | --- |
| Possible | Unavailable | Unable to select time |
What is the Japanese concept of 縁
The Japanese concept of "en" (縁) is a complex and multi-faceted idea that refers to the connections between people and things in the world. It is often translated into English as "fate", "destiny", "relationship", or "bond". En encompasses the idea that all things in the universe are interconnected, and that our lives are shaped by the relationships we form with others.
En is often associated with the idea of "enmusubi" (縁結び), which refers to the act of matchmaking or bringing two people together in a meaningful relationship. This can include romantic relationships, but it can also refer to friendships, business partnerships, or any other type of connection that has the potential to enrich our lives.
In Japanese culture, en is highly valued and is often seen as a guiding force in people's lives. It is believed that our encounters with others are not mere coincidence, but rather the result of a deeper, more profound connection that exists between all things. As such, people often seek to cultivate en by being kind to others, maintaining strong relationships, and being open to new experiences and opportunities that may come their way.
En-musubi / Meoto-iwa